Dinner for Two!
The Kiwanis Club of Barrie!
Dinner For Two Anywhere In The World Draw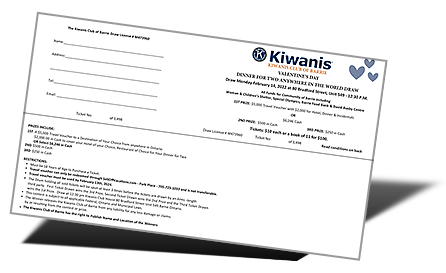 The Kiwanis Club of Barrie is pleased to hold, once more, its world-famous Dinner for two: Anywhere in the World!Our draw will take place on February 14, 2022 at 80 Bradford St. Unit 549 at 12:30 p.m.
The funds from the draw will be used for:
The Barrie Food Bank

Barrie Collegiate Scholarships

Woman & Children's Shelter

Special Olympics

David Busby Centre

Empower Simcoe

Grandmothers/Grandothers
Tickets are only $10.00 each, or a book of 11 tickets for $100.00.
February 14th Winners are:
1ST -Darlene Rose
2ND - Brendan Burns

3RD - Barrie Kitchen Saver
RESTRICTIONS:
Must be 18 Years of Age to Purchase a Ticket.

Voucher can only be redeemed through SellOffVactions.com - Park Place - 705-725-1033 & is not transferable.

Travel voucher must be used by February 13, 2024.

Prize May Not Be Redeemed for Cash.

Only 3,498 Tickets will be available to sell.

The drum holding all sold tickets will be spun at least 3 times before a ticket is drawn by an arms-length, third party

This contest is subject to all applicable Federal, Ontario and Municipal Laws.

The winner releases The Kiwanis Club of Barrie from any liability, for any loss, damage or claims caused by or resulting from the contest or prize.
The Kiwanis Club of Barrie Reserves the right to Publicize Names & Addresses of the Winner.
For more information and to purchase your tickets, please call Chuck McIlravey: 705-252-1115
Top